Why Choose
Dermatology Associates?
You and your skin deserve the best, and you need a team of dermatologists that promises to offer it. From our board-certified dermatologists to our lab technicians to our office staff, the entire team at Dermatology Associates is dedicated to providing quality skin care to patients in the Flathead Valley. Here, skin is our passion, and you are our priority. Our on-staff doctors are experts in all aspects of medical and surgical dermatology - from cosmetic procedures to pediatrics. We pride ourselves on maintaining a pristine, welcoming office environment, and taking the time to respond to the questions and concerns of each client we meet. We encourage you to learn more about the team here at dermatology associates:
Dr. George is a board-certified dermatologist and the senior partner with Dermatology Associates, PLLP. He has practiced in the Flathead Valley since 1996. Dr. George graduated from Whitman College in Walla Walla, Washington, with a B.A. in Chemistry. He earned his medical degree at the Uniformed Services University of the Health Sciences, School of Medicine, in Bethesda, Maryland. He completed his dermatology residency at Wilford Hall Medical Center at the Lackland Air Force Base in San Antonio, Texas. Prior to moving to Montana, Dr. George completed his Air Force career as the chief dermatologist at the US Air Force Academy in Colorado Springs.
Dr. George has extensive training in surgical and cosmetic dermatology and is the medical director of the Laser Cosmetic Center. He and his wife Lori raised their three children in our beautiful Flathead Valley and enjoy all the numerous outdoor activities available here.
Kathryn Kay Hansen, MD, FAAD, is a board-certified dermatologist practicing at Dermatology Associates since 2001. Her practice encompasses all aspects of medical and surgical dermatology from pediatrics to geriatrics.
Dr. Hansen is a Glasgow, Montana native and graduate of Montana State University and the University of Washington School of Medicine. After her internship at the Gundersen Lutheran Hospital in La Crosse, Wisconsin, she completed her dermatology residency at the Medical College of Wisconsin, Milwaukee. She first practiced in Seattle for two years before returning home to Montana. From 1994-2000, she was the dermatologist at the Great Falls Clinic.
Kay is married to artist Bye Bitney, and they enjoy raising their two children, Katy and Carl, and several pets on the shores of Flathead Lake.
Blake Sampson, MD, FAAD, is a board-certified Fellow of the American Academy of Dermatology and a member of the American College of Mohs Surgery. Dr. Sampson earned his medical degree from the University of Washington. He completed his dermatology residency at the University of Utah and fellowship training in Micrographic Surgery, Dermatologic Oncology and Cosmetic Dermatology at Oregon Health & Science University in Portland.
Dr. Sampson's areas of interest include Mohs micrographic surgery, facial reconstruction, cosmetic and procedural dermatology, high-risk skin cancer, skin cancer prevention, and public health and policy. With the Mohs surgery technique, Dr. Sampson can precisely identify and remove the entire tumor while leaving the surrounding healthy tissue intact and unharmed. This surgery offers the highest potential for cure and the best possible functional and cosmetic outcomes.
Originally from Idaho, Dr. Sampson and his wife and three children are excited to call Montana home.
Dr. Gessler is a graduate of the University of Michigan dermatology residency program in Ann Arbor, Michigan. She graduated first in her class from the University of Tennessee College of Medicine and completed her intern year in Memphis, TN. Dr. Gessler holds a BS in chemistry, a BA in Japanese linguistics and speaks English, Russian and Ukrainian.
Dr. Gessler looks forward to serving the Flathead valley community and living in Kalispell with her husband, two children, and a Corgi named Penny.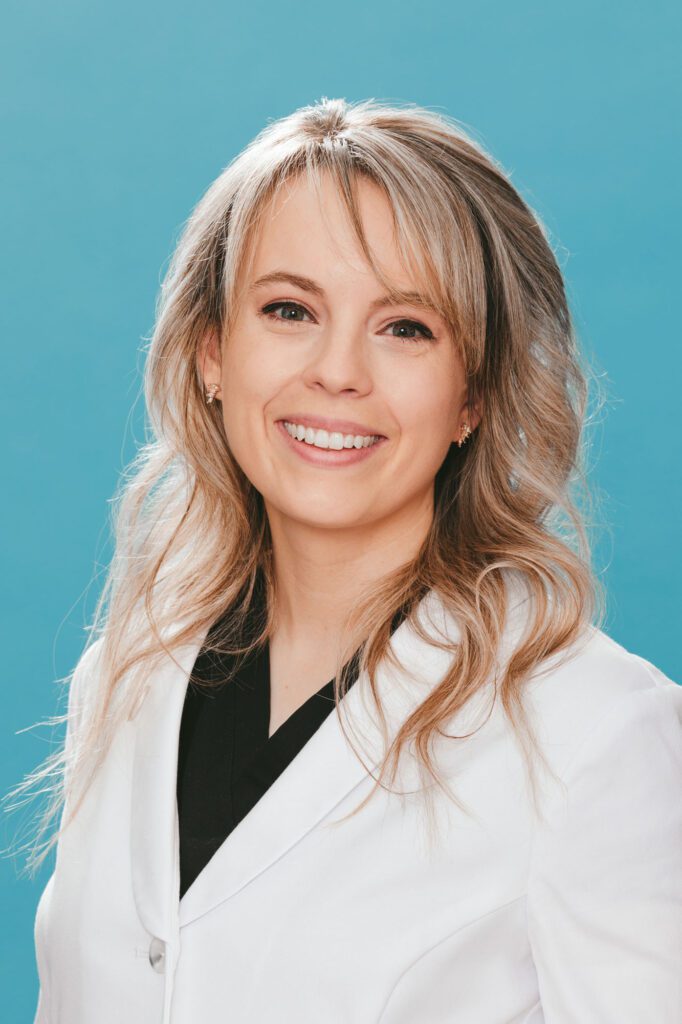 MacKenzie George is a physician assistant who joined Dermatology Associates in 2016. She has helped thousands of Flathead Valley residents feel comfortable in their own skin, addressing anything from acne to rashes to concerns about skin cancer.
MacKenzie's passion for skincare and medicine started at an early age, perhaps influenced by her uncle – dermatologist Dr. Thomas F. George.  Her 4th grade science project involved testing effectiveness of various methods of sunscreen application. After graduating Magna Cum Laude from Bowling Green State University in Ohio, she received her Masters in Physician Assistant Studies from DeSales University, Pennsylvania, in 2016. In addition to her regular course of studies she volunteered as a part of the street medicine team, in a homeless shelter, and worked with Spanish-speaking immigrant populations.
When not in the office, you can find MacKenzie reading by a fire, spending time with her daughter, skiing on Big Mountain, or enjoying a nice lake day where she's serious about her sunscreen.
Maureen Kunz is a physician assistant who moved to the Flathead Valley in 2014. She is a Virginia native who received her undergraduate degree from the College of William and Mary, Virginia, in 1993. She continued her education at Duke University in North Carolina, where she received her Masters in Health Science to become a Physician Assistant. She moved to the Reno/Tahoe area of California and practiced as a dermatology PA for over 15 years before moving to Montana. Maureen enjoys taking care of patients of all ages at Dermatology Associates' Whitefish and Kalispell clinics.
Maureen resides with her husband, 2 children, and 3 dogs in Whitefish, Montana. She enjoys hiking, biking, snowboarding and cross-country skiing.
Libbie Lapp PA-C joined Dermatology Associate in October 2004. Her Physician Assistant degree is from Rocky Mountain College in Billings, Montana, graduating August 2004. She is also a graduate of South Dakota State University (Pharmacy, 1988) and practiced as a registered pharmacist in the Flathead Valley from 1990-2002. She is a member of the Montana Academy of Physician Assistants and the Society of Dermatology Physician Assistants.
She enjoys seeing new or established patients of all ages.
She and her husband Richard live in Creston and are active members of the community. They have two grown children who graduated from Flathead High School, MSU-Bozeman, and Pacific Lutheran University.
They enjoy the many outdoor activities our area offers. They recently bike-packed the Montana section of the Great Divide Mountain Bike Route and have plans to complete the rest of the trail, which extends to the Mexican border, in the next few years.