Healthy skin is our passion.
Healthy skin is our passion.
Board-Certified Dermatologists serving Northwest Montana since 1990.
The skin is the body's largest organ, and it works hard for us. Each day, our skin helps us respond to the environment, experience the touch of the people we love, and enjoy the bliss of a warm blanket or the refreshment of a cool shower. Over time, though, skin changes. Perhaps you're suffering from a hereditary condition like eczema or rosacea. Perhaps you've developed a wart or a skin rash. Maybe you've just noticed that the years have taken their toll, and you're not feeling as good about your skin as you used to.
No matter what the case may be, you deserve to reclaim healthy, vibrant skin. That's where we come in. Welcome to Dermatology Associates, the Flathead Valley's premier dermatologists and med spa.
Since 1990, Dermatology Associates has been your Northwest Montana full-service dermatology center for all your skin care needs. You can trust us to provide state-of-the-art medical and cosmetic dermatological treatment for all skin conditions, from acne and surgical treatments to cosmetic laser therapy. Our skin specialists draw on decades of experience to provide unparalleled care and give you the attention you deserve. We're proud to have been voted "Best of the Flathead" in 2022, and we look forward to serving clients in this beautiful area in the coming years.
We understand that dealing with skin disorders can be complex and embarrassing and that you need a compassionate expert you can trust. Our team of expert dermatologists specializes in the professional diagnosis, treatment, and management of a full range of skin conditions and cosmetic concerns. We believe our skin works hard for us and deserves holistic, comprehensive care. We're here to help you provide that care and enjoy your healthiest, happiest skin.
Schedule your first Appointment
Skin Conditions We Treat
at Dermatology Associates
Did you know that the average adult has nearly 21 square feet of skin? Our mission is to care for and maintain every square inch of that area by providing anti-aging skin care, diagnosing and treating common skin conditions, and administering non-invasive cosmetic procedures. In addition to providing cosmetic dermatology to address fine lines, wrinkles, and sun spots (among other concerns), our team can help you treat, manage, or eliminate the following skin conditions:
Skin Conditions We Treat
at Dermatology Associates
Did you know that the average adult has nearly 21 square feet of skin? Our mission is to care for and maintain every square inch of that area by providing anti-aging skin care, diagnosing and treating common skin conditions, and administering non-invasive cosmetic procedures. In addition to providing cosmetic dermatology to address fine lines, wrinkles, and sun spots (among other concerns), our team can help you treat, manage, or eliminate the following skin conditions:
Our board-certified dermatologists are among the best in the industry and are available to help you address various skin conditions and concerns.
Dr. George is a board-certified dermatologist and the senior partner with Dermatology Associates, PLLP. He has practiced in the Flathead Valley since 1996. Dr. George graduated from Whitman College in Walla Walla, Washington, with a B.A. in Chemistry. He earned his medical degree at the Uniformed Services University of the Health Sciences, School of Medicine, in Bethesda, Maryland. He completed his dermatology residency at Wilford Hall Medical Center at the Lackland Air Force Base in San Antonio, Texas. Prior to moving to Montana, Dr. George completed his Air Force career as the chief dermatologist at the US Air Force Academy in Colorado Springs.
Dr. George has extensive training in surgical and cosmetic dermatology and is the medical director of the Laser Cosmetic Center. He and his wife Lori raised their three children in our beautiful Flathead Valley and enjoy all the numerous outdoor activities available here.
Kathryn Kay Hansen, MD, FAAD, is a board-certified dermatologist practicing at Dermatology Associates since 2001. Her practice encompasses all aspects of medical and surgical dermatology from pediatrics to geriatrics.
Dr. Hansen is a Glasgow, Montana native and graduate of Montana State University and the University of Washington School of Medicine. After her internship at the Gundersen Lutheran Hospital in La Crosse, Wisconsin, she completed her dermatology residency at the Medical College of Wisconsin, Milwaukee. She first practiced in Seattle for two years before returning home to Montana. From 1994-2000, she was the dermatologist at the Great Falls Clinic.
Kay is married to artist Bye Bitney, and they enjoy raising their two children, Katy and Carl, and several pets on the shores of Flathead Lake.
Blake Sampson, MD, FAAD, is a board-certified Fellow of the American Academy of Dermatology and a member of the American College of Mohs Surgery. Dr. Sampson earned his medical degree from the University of Washington. He completed his dermatology residency at the University of Utah and fellowship training in Micrographic Surgery, Dermatologic Oncology and Cosmetic Dermatology at Oregon Health & Science University in Portland.
Dr. Sampson's areas of interest include Mohs micrographic surgery, facial reconstruction, cosmetic and procedural dermatology, high-risk skin cancer, skin cancer prevention, and public health and policy. With the Mohs surgery technique, Dr. Sampson can precisely identify and remove the entire tumor while leaving the surrounding healthy tissue intact and unharmed. This surgery offers the highest potential for cure and the best possible functional and cosmetic outcomes.
Originally from Idaho, Dr. Sampson and his wife and three children are excited to call Montana home.
Dr. Gessler is a graduate of the University of Michigan dermatology residency program in Ann Arbor, Michigan. She graduated first in her class from the University of Tennessee College of Medicine and completed her intern year in Memphis, TN. Dr. Gessler holds a BS in chemistry, a BA in Japanese linguistics and speaks English, Russian and Ukrainian.
Dr. Gessler looks forward to serving the Flathead valley community and living in Kalispell with her husband, two children, and a Corgi named Penny.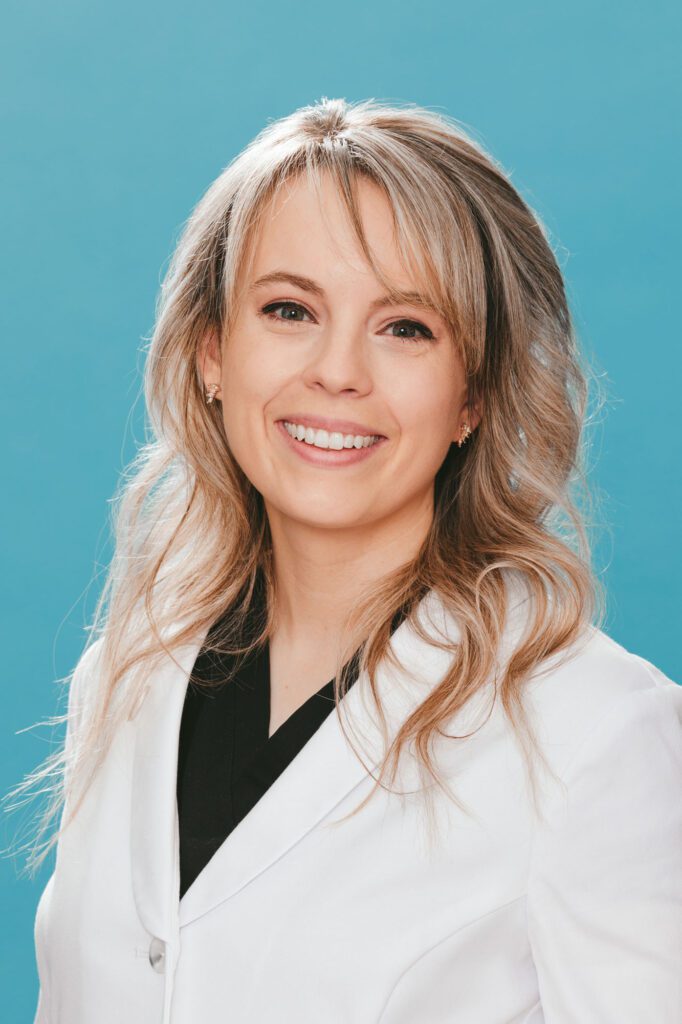 MacKenzie George is a physician assistant who joined Dermatology Associates in 2016. She has helped thousands of Flathead Valley residents feel comfortable in their own skin, addressing anything from acne to rashes to concerns about skin cancer.
MacKenzie's passion for skincare and medicine started at an early age, perhaps influenced by her uncle – dermatologist Dr. Thomas F. George.  Her 4th grade science project involved testing effectiveness of various methods of sunscreen application. After graduating Magna Cum Laude from Bowling Green State University in Ohio, she received her Masters in Physician Assistant Studies from DeSales University, Pennsylvania, in 2016. In addition to her regular course of studies she volunteered as a part of the street medicine team, in a homeless shelter, and worked with Spanish-speaking immigrant populations.
When not in the office, you can find MacKenzie reading by a fire, spending time with her daughter, skiing on Big Mountain, or enjoying a nice lake day where she's serious about her sunscreen.
Maureen Kunz is a physician assistant who moved to the Flathead Valley in 2014. She is a Virginia native who received her undergraduate degree from the College of William and Mary, Virginia, in 1993. She continued her education at Duke University in North Carolina, where she received her Masters in Health Science to become a Physician Assistant. She moved to the Reno/Tahoe area of California and practiced as a dermatology PA for over 15 years before moving to Montana. Maureen enjoys taking care of patients of all ages at Dermatology Associates' Whitefish and Kalispell clinics.
Maureen resides with her husband, 2 children, and 3 dogs in Whitefish, Montana. She enjoys hiking, biking, snowboarding and cross-country skiing.
Libbie Lapp PA-C joined Dermatology Associate in October 2004. Her Physician Assistant degree is from Rocky Mountain College in Billings, Montana, graduating August 2004. She is also a graduate of South Dakota State University (Pharmacy, 1988) and practiced as a registered pharmacist in the Flathead Valley from 1990-2002. She is a member of the Montana Academy of Physician Assistants and the Society of Dermatology Physician Assistants.
She enjoys seeing new or established patients of all ages.
She and her husband Richard live in Creston and are active members of the community. They have two grown children who graduated from Flathead High School, MSU-Bozeman, and Pacific Lutheran University.
They enjoy the many outdoor activities our area offers. They recently bike-packed the Montana section of the Great Divide Mountain Bike Route and have plans to complete the rest of the trail, which extends to the Mexican border, in the next few years.
Kirsten Svennungsen is a nationally certified Nurse Practitioner, who enjoys creating an uplifting, comfortable experience for her patients in providing nonsurgical treatments through the use of neurotoxins, dermal fillers and lasers. Kirsten's artistic style is to naturally enhance each individual's authentic beauty. She has administered aesthetic services since 2014 in Dermatology and Plastic Surgery settings. Kirsten earned her Master of Science degree for Family Nurse Practitioner from Gonzaga University, Bachelor of Science in Nursing from Montana State University, and Bachelor of Art from Carroll College. She values continuing education and is committed to providing beautiful results for her wonderful patients.
Born and raised in Montana, Kirsten is grateful for her loving husband and their two daughters.
Kadie Latimer Booth is a Licensed Medical Aesthetician practicing since 2011 in medical spas and the plastic surgery field. Kadie continued her education with a Medical Assistant degree, working at Dermatology Associates as a surgical assistant in Mohs Surgery.
Kadie specializes in CoolSculpting, laser skin treatments, DiamondGlow facials, and facial chemical peels.
Kadie enjoys spending time with her Husband and two golden retrievers Jackson and Bowie. In her free time, she likes to take advantage of the outdoors whether it's skiing on the slopes or on Flathead Lake.  Kadie is excited to serve her hometown and share her passion for skin care.
What our Clients are Saying
We understand that choosing a dermatologist can be intimidating, and hearing from past clients can make it a bit easier. At Dermatology Associates, we pride ourselves on always putting our clients first and ensuring their complete satisfaction with every procedure we perform. Here's what our previous clients have to say about our services:
Talia Heck

"Dermatology Associates has taken care of all my skin problems and concerns for 15 years. They are careful and considerate and have helped me tremendously throughout the years! I highly recommend this practice!"
Stacey Schultz

"My family and I have always felt well taken care of with Dr. George and his associates. We have been patients for over 10 years and they have never let us down. We would highly recommend them!!"
Debra Westfall

"I am so impressed with MacKenzie George, she had found 3 cases of skin cancer that needed surgery. She is amazing. I was referred to Blake Sampson. He did my surgery on my leg. It was almost 3 inches. It looks fabulous."
Linda Subatch

"Prompt and professional, excellent care provided from office staff to doctor and support staff. Answered questions patiently and respectfully. Thank you."
Robin Crisp

"My family and I have always put our full trust and confidence in Dermatology Associates for more than 20 years. The doctors are all experts in their fields! I refer everyone to Dermatology Associates for quality and professional care!"
Robbie Rush

"I had a very pleasant visit. That staff was friendly and you could tell they valued your time. They were very helpful by making an effort to explain what was going on because it was my first time in that situation. I would recommend them to my friends and family!"
Anna RiCharde

"The providers at Dermatology Associates have treated my severe acne for over 10 years - couldn't be happier with the results and their friendly, professional, and consistent care."
Ken Margett

"The staff is super helpful. Dr George care is top notch. Can't recommended them enough."
Rhonda W.

Hand Written Note

"Thank you so much for working with me. I appreciate it more than you know. Dermatology Associates Rocks!!"